ProductIntroduction
First, the working principle.
LUGB vortex flowmeter is mainly used for measuring the flow of industrial pipeline media fluid, such as gases, liquids, vapors and other media. It is characterized by low pressure loss, wide range and high accuracy. It is almost not affected by parameters such as fluid density, pressure, temperature, viscosity and so on. There are no movable parts, so the reliability is high and the maintenance quantity is small. The instrument parameters can be shown in long-term stability 1. The vortex flowmeter adopts piezoelectric stress sensor, which has high reliability and can work in the working temperature range of -50 to +350 C. 。 It has analog standard signal and digital pulse signal output. It is easy to match with computer and other digital systems. It is an advanced and ideal flow meter.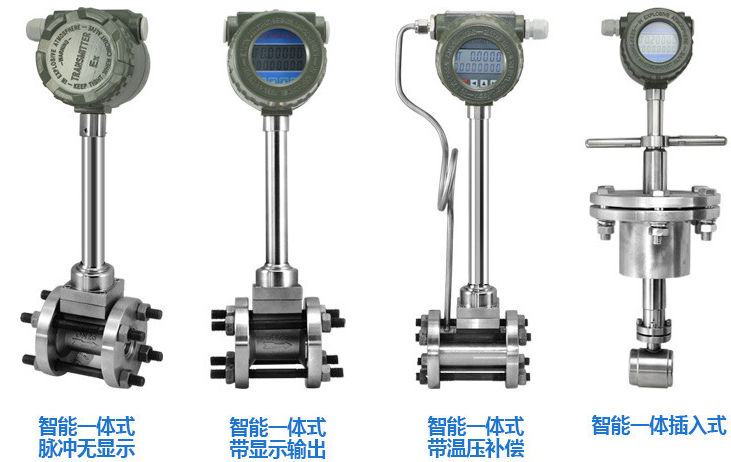 Two, technical parameters
1, measuring medium: gas, liquid, steam;
2, caliber flange caliper caliber 25,32,50,80100;
3, flange joint diameter selection 100150200;
4. The range of flow measurement is normal, the velocity range is 1.5 x 104~4 * 106, the gas is 5 ~ 50m/s, and the liquid is 0.5 ~ 7m/s;
5, the measurement accuracy is 1 grade 1.5.
6. The temperature of the tested medium is 25 -25 to 100 C at room temperature, 7. high temperature, 25 C to 150 C, and 250 C;
7, output signal pulse voltage output signal high level 8 ~ 10V low level 0.7 ~ 1.3V;
8, the pulse duty ratio is about 50%, and the transmission distance is 100m.
9, the pulse current remote transmission signal is 4~20 mA, and the transmission distance is 1000m.
10, instrument usage temperature: -25 C to +55 C humidity: 5 ~ 90% RH50 C;
11, material stainless steel, aluminum alloy;
12, power DC24V or lithium battery 3.6V;
Three, flow range table
Table 1, liquid and gas (unit: m) Three /h)
Path

(DN)

Liquid flow range

(M Three /h)

Output frequency range

(Hz)

Gas flow range

(M Three /h)

Output frequency range

(Hz)

Fifteen

1.2 to 6.2

90~900

5~25

265~2640

Twenty

1.5 to 10

40~396

8~50

218~1982

Twenty-five

1.6 to 16

32~325

10~70

172~1420

Thirty-two

2~20

20~250

15~150

130~1350

Forty

2.5 to 25

13~130

22~220

115~1147

Fifty

3.5 to 35

9~93

36~320

96~854

Sixty-five

6~60

8~82

50~480

61~583

Eighty

10~100

6~65

70~640

45~417

One hundred

15~150

5~50

130~1100

43~367

One hundred and twenty-five

25~250

5~47

200~1700

33~290

One hundred and fifty

40~400

4~40

280~2240

27~221

Two hundred

80~800

3~33

580~4960

24~207

Two hundred and fifty

140~1400

3~26

970~8000

20~171

Three hundred

200~2000

2~22

1380~11000

17~136

Four. Product selection form

Model
Path
LUGB
DN15-900


Code name
Installation mode


A1
Card mounted
A2
Flange type
A3
Insertion type




Code name
Measured medium
B1
Liquid
B2
Gas
B3
steam


Code name
Flow probe material
C1
Three hundred and four
C2
Three hundred and sixteen


Code name
Sensor material
K1
Three hundred and four
K2
Three hundred and sixteen
Code name
Accuracy grade
E1
Level 1
E2
Level 1.5
Code name
signal output
F1
4 - 20Ma (two wire system)
F2
4 to 20 MA (three wire system)
F3
RS485 communication
F4
RS485 Modbus
F5
HART
F6
Frequency output
F7
Field display
F8
4-20mA+ frequency +RS485
Code name
Temperature and pressure compensation
N
No temperature compensation
Y
Temperature and pressure compensation
Code name
temperature
T1
Normal temperature type
T2
Medium temperature type
T3
High temperature type
Code name
Pressure grade
P3
1.6MPa
P4
2.5MPa
P5
4.0MPa
P6
6.3MPa
Code name
Power supply
D1
3.6V battery powered
D2
DC24V power supply
Code name
Protection level
U1
IP65 no explosion proof
U3
IP65 has explosion-proof.
Note: insert type vortex flowmeter is recommended for DN300 above calibre, and can be customized.

Five. Installation specification

Vortex flowmeter is a measuring instrument for measuring gas, liquid and steam. Proper installation of vortex flowmeter can better use its efficiency.

1, a reasonable choice of installation sites and environment.
Avoid strong electrical equipment, high frequency equipment, strong power switch equipment, avoid high temperature heat sources and radiation sources, avoid strong vibration sites and strong corrosive environment, and consider installation and maintenance at the same time.
2, there must be enough straight lines in the upper and lower reaches.
If the upstream of the sensor installation point has two 90 degree elbow on the same plane, the upstream straight pipe section is equal to or equal to 25D, and the downstream straight pipe section is equal to or equal to 5D.
If the upstream of the sensor installation point has two 90 degree elbows on different planes, the upstream straight pipe section is equal to or equal to 40D, and the downstream straight pipe section is equal to or equal to 5D.
The control valve should be installed outside the downstream 5D of the sensor. If the upstream of the sensor must be installed, the upstream straight pipe segment should not be less than 50D, and the downstream should be no less than 5D.
3, installation points upstream and downstream piping should be concentric with sensor, coaxial deviation should be not less than 0.5DN.
4, pipeline to reduce vibration measures.
The sensor should be avoided as far as possible, especially in transverse vibration. If it is necessary to install, vibration reduction measures must be taken. Piping fastening devices shall be installed at the upstream and downstream 2D of the sensor, and vibration pad shall be added.
5. Installation on horizontal pipes is the most commonly used installation method for flow sensors.
When measuring gas flow, if the measured gas contains a small amount of liquid, the sensor should be installed at the higher level of the pipeline.
When measuring liquid flow, if there is a small amount of gas in the liquid, the sensor should be installed at the lower part of the pipeline.
6. Sensor installation in vertical pipes.
When measuring gas flow, the sensor can be installed on the vertical pipe, and the flow direction is unlimited. If the measured gas contains a small amount of liquid, the flow of gas should go downward.
When measuring liquid flow, the flow of liquid should be from bottom to top: this will not add additional weight to the probe.
Six. Installation notes

Vortex flowmeter is a sensitive flowmeter for pipe flow distribution distortion, rotating flow and flow pulsation. Therefore, the installation conditions of the pipeline should be fully taken into account and comply with the requirements of the manufacturer's instruction manual.
1. Vortex flowmeter can be installed indoors or outdoors. If installed in underground wells, there may be flooded possibility, we should use submersible sensors. The sensor can be installed horizontally, vertically or horizontally on the pipe, but when measuring liquid and gas, the installation position should be noted to prevent bubbles and droplets from interfering.
2. Vortex flowmeter must ensure the necessary length of upstream and downstream straight pipe sections. The data in different data are different. The reason may be that the vortex generator has not been standardized. The influence of the size difference is not yet verified. The experimental study on the length of the straight pipe is not enough for all kinds of choke parts. At the initial stage.
3, sensor and pipeline connection. Attention should be paid to the following problems when connecting to pipelines.
The inner diameter D of a and upstream and downstream piping is the same as that of the sensor's inner diameter D ', and the difference satisfies the following conditions: 0.95D is less than D' < 1.1D.
The B and piping should be concentric with the sensor, and the coaxality should not be less than 0.05D '.
C, gasket can not be convex into the pipe, its inner diameter can be 1 to 2mm larger than the inner diameter of the sensor.
HotTags:
On ANo
SendInquiry